Webchat Software
Convert web visitors into leads
Create revenue-driving conversations
Engage on demand
Chat in real-time, conduct virtual consults, and even text leads 1:1 or in bulk after they've left your site to keep engagement and conversion high.
Convert leads with ease
Automatically funnel all your webchat leads into a single inbox to follow up and convert over text, social, email, and wherever is most convenient.
Free up your teams
Use AI and auto-response templates to scale your customer support and engagement without adding resources.
Live Chat
Engage website visitors in real time
Don't wait. Chat with website visitors the moment they reach your site to generate leads, book appointments, conduct virtual consults, and more.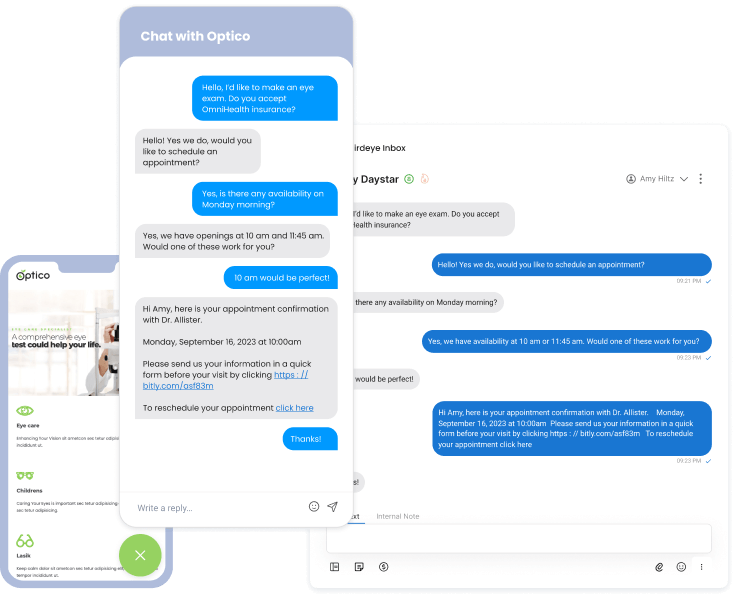 Chat Bot
Use AI to answer FAQs
Give your teams the breathing room they need to focus on more complex work with effortless and efficient customer support powered by our AI chatbot, Robin.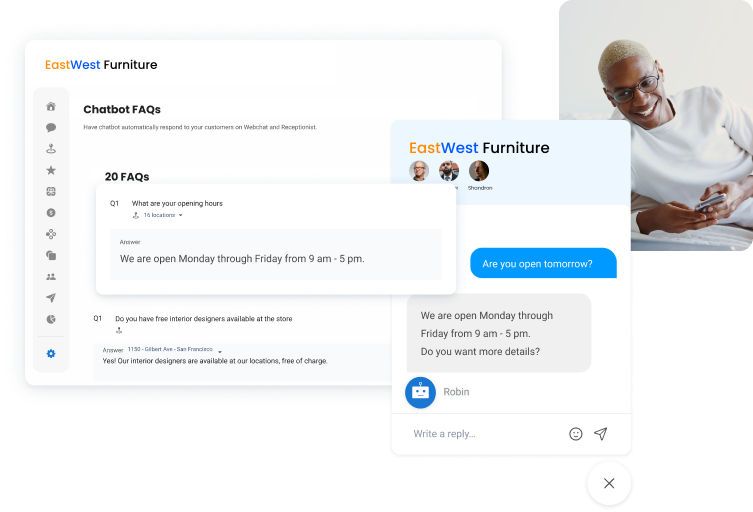 AI Tools
Write better replies with AI
Send better quality messages with the help of an AI-writing assistant that can generate tailored responses from scratch or rephrase your replies to ensure they're on-brand, empathetic, and consistent.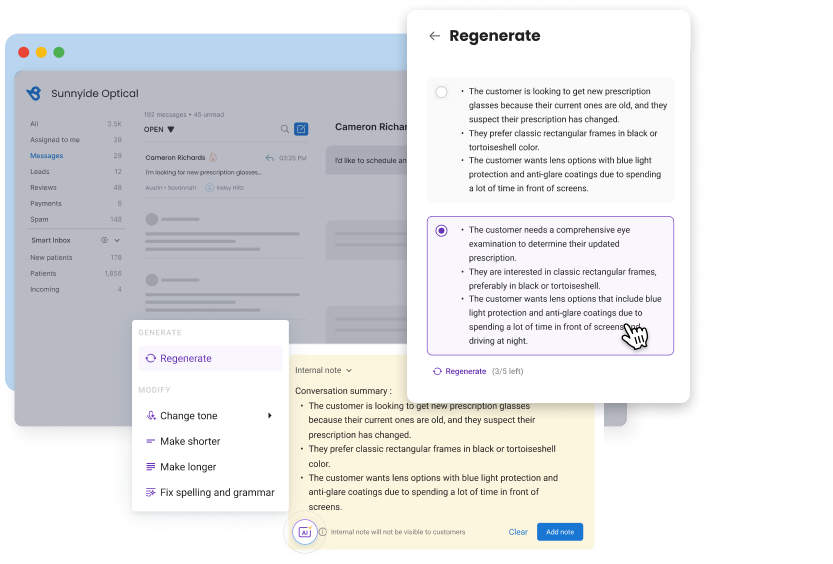 Smart Inbox
Organise your conversations
Funnel, filter, and organise all web chat conversations into a single inbox based on location, time, or type of conversation.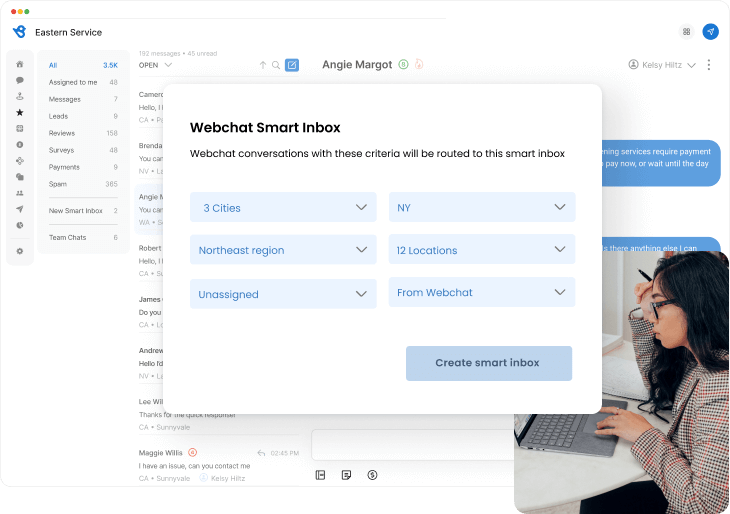 Team Assignments
Collaborate with your team
Assign conversations to a team or individual to ensure the right person is following up.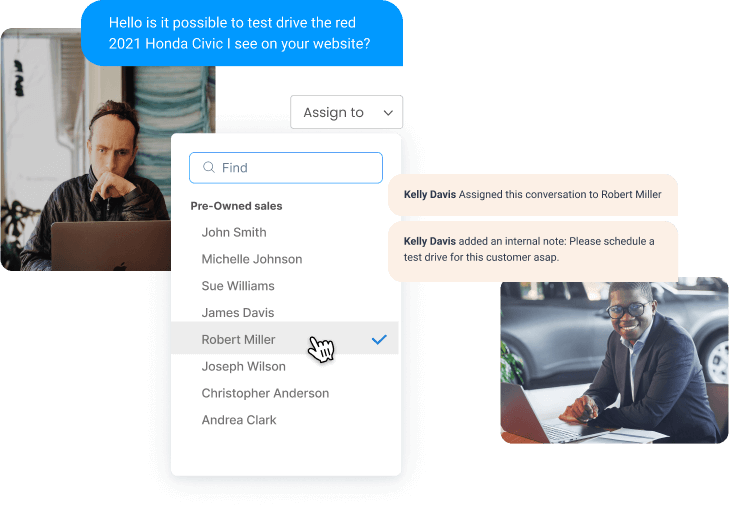 Notifications
Stay on top of new leads
Instant notifications let you immediately route new business to the right teams, while the Birdeye Mobile App ensures you're always ready to respond.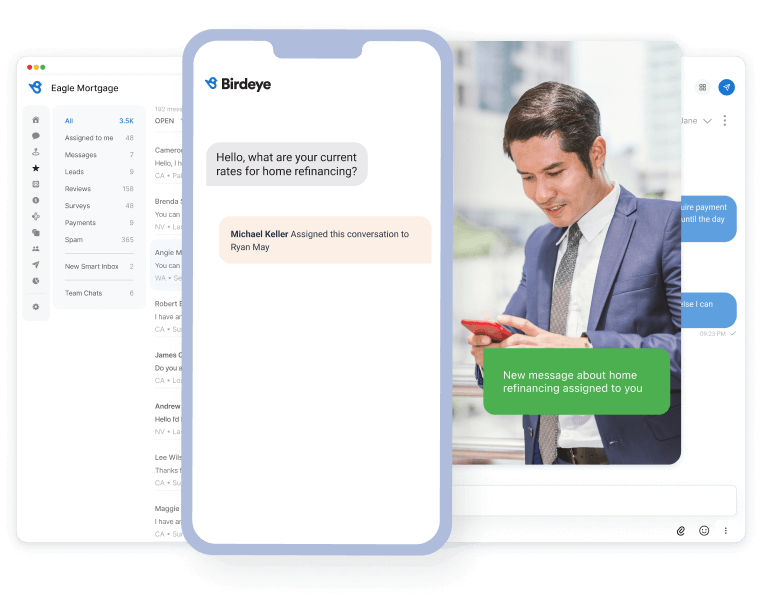 Response Templates
Save time with templates
Birdeye makes it a breeze to craft response templates for common questions and send templated requests for reviews, referrals, and more.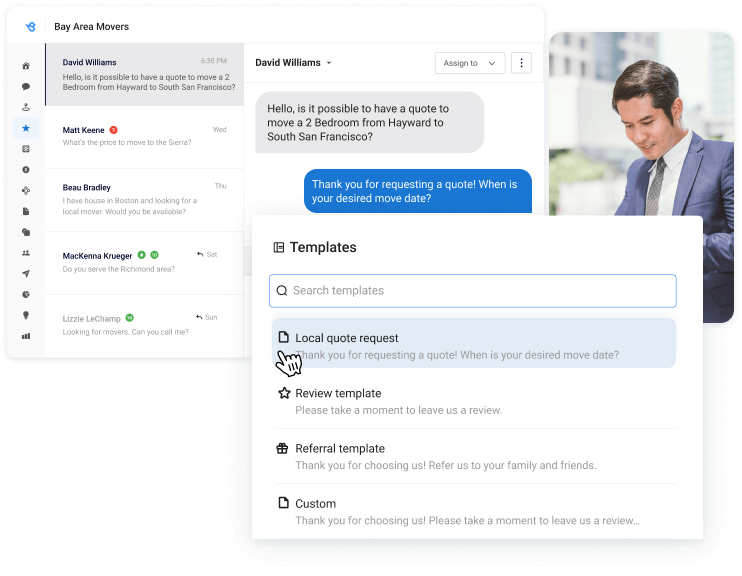 Rules-Based Auto Replies
Automate chat flows
Set up different welcome messages and auto-replies for when your agents are live, when they are busy, and for off-business hours to keep visitors engaged and informed.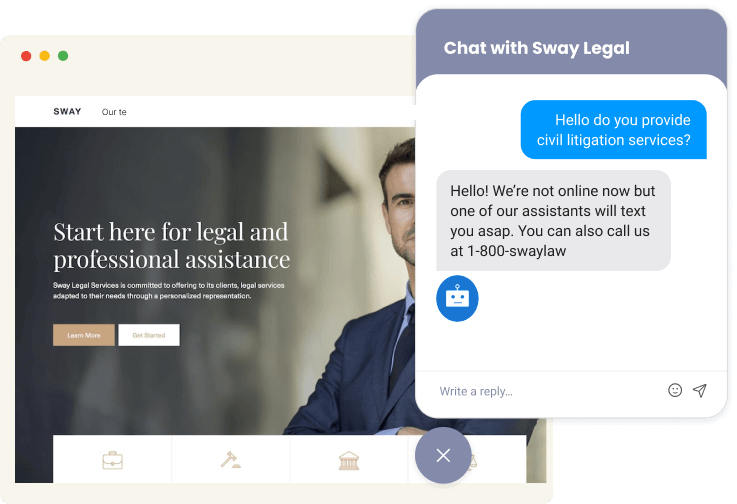 Webforms
Get more leads with webforms
Use forms to capture website leads, then route them directly to your Birdeye Inbox for personalised follow up.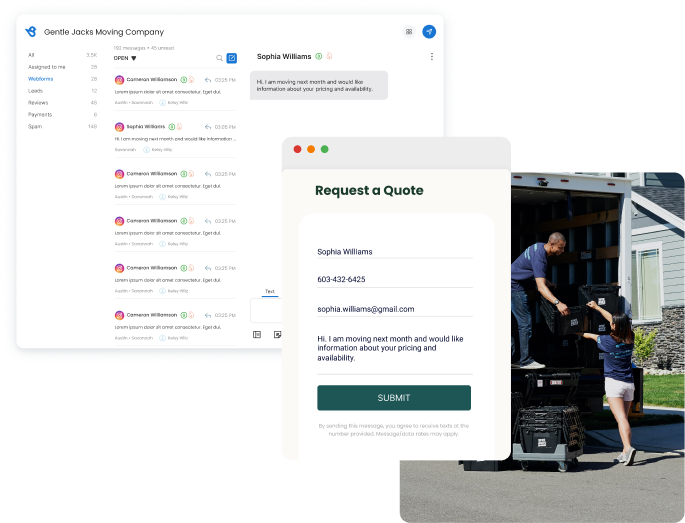 Lead Capture
Engage visitors via text
Don't miss out on an opportunity just because a visitor abandons the chat. With Webchat, every conversation starts with a form that captures a name and phone number so you can follow up via text to keep the conversation going.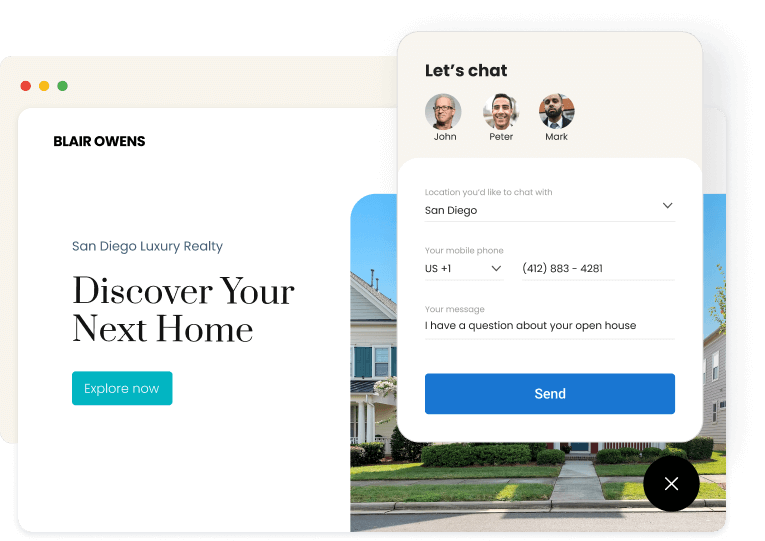 Files & Attachments
Attach files via chat
Resolve customer questions faster by including attachments in your chats including invoices, receipts, screenshots, and more.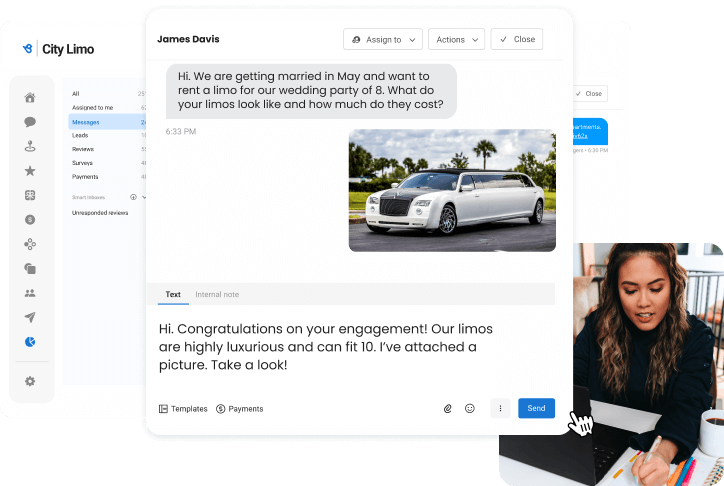 Reporting
Track chat performance
Get detailed reporting on chat conversations and filter by location or user to understand what's working and where to improve. You can also integrate with Google Analytics and other platforms to go even deeper.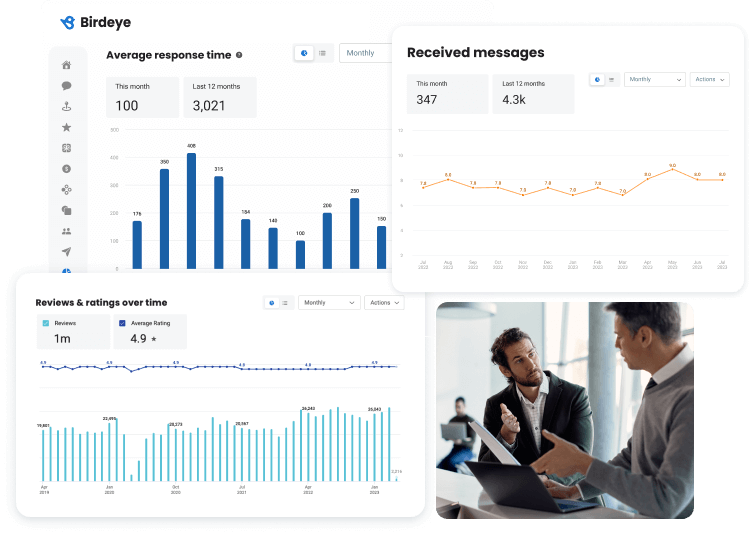 Birdeye outranks the competition
Based on 7,000+ reviews on

Birdeye customers get results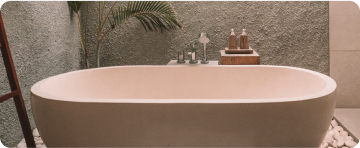 We've doubled our monthly new client appointments, all thanks to Webchat. The ability to reach out to each website visitor and answer questions wherever I am, at any time of day is a total game-changer.
Jason Hartline
Marketing Consultant For Skinspamed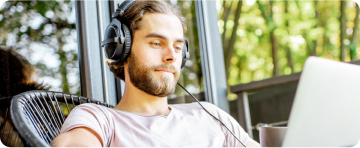 Birdeye has completely restructured the way we do business. We're more agile in converting our sales leads because of Birdeye webchat, and we're seeing over twice as many internet search inquiries due to our ratings & reviews.
Brandy Mills
Operations Manager, Echo Wireless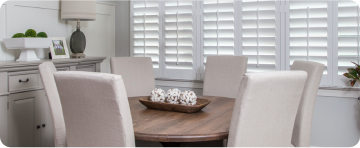 Before Birdeye, the only way we could capture website leads was through a form. Now with Webchat, we've received over 1,400 leads. Webchat and business texting have become an essential part of our day-to-day business.
Marisa endy-vanchieri
Director of social marketing, Sunburst Shutters
Products that pair well with Webchat
Birdeye is the only comprehensive platform for customer experience to offer a range of products that scale with your business.
Messaging
Chat prospects from your website, social media, text, and more from a single Inbox.
Mass Texting
Reach and engage thousands of customers with high-converting, personalised messages.
Surveys
Send text-friendly surveys to better understand and optimise customer experience
Start growing with Birdeye today
See why more than 100,000 local businesses choose Birdeye.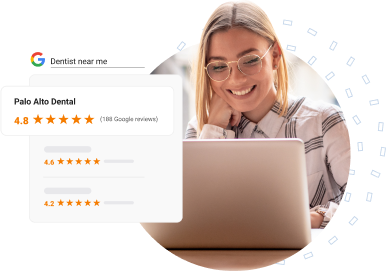 Frequently Asked Questions
What is Birdeye Webchat?

Click to open
Birdeye Webchat is a chat window you can add to your website to engage with visitors to answer questions, book appointments, resolve customer issues, and more.
How can Birdeye Webchat grow my business?

Click to open
With Birdeye Webchat, you can chat with website visitors live, which increases conversion rates and reduces the chance that they will navigate away to a competitor's website. It also helps you increase customer loyalty by making it easy to quickly answer questions and resolve customer issues.
What are Birdeye Webchat's features and capabilities?

Click to open
Birdeye Webchat gives you ability to:
Chat with customers live
Answer FAQs 24/7 with a chatbot
Respond to chats on the go from the mobile app
Assign conversations to team members
Track agent productivity, average resolution times, and more
Capture contact information and automatically text customers after they leave your site
Can I customise Birdeye Webchat?

Click to open
You can make Birdeye Webchat your own by customising your logo, names, photos, colors, custom chat icons, greetings, away messages, and more. Businesses with multiple brands and multiple locations can create a unique Birdeye Webchat window for each one with ease.
Will the Birdeye Webchat slow down my website?

Click to open
No. Birdeye Webchat is light and quick to load, so it will not slow down your website. The chat window loads only after your business webpage has loaded or when a visitor clicks on it to ask a question - you choose. This prevents it from ever affecting your website's speed or performance.
What is the Smart Inbox feature in Birdeye Webchat?

Click to open
The Smart Inbox feature lets you create customised inboxes to funnel incoming messages by location and date so you can easily manage and respond to customer interactions appropriately.
How do response templates and rules-based auto-replies work in Birdeye Webchat?

Click to open
Birdeye gives you the ability to set up a variety of message and auto-reply templates to ensure that Webchat is aligned with your business hours and you are keeping visitors engaged. You can customise different templates for the following scenarios:
An auto-reply to an incoming message during business hours, when your live chat is enabled
An auto-reply to an incoming message during business hours, when your live chat is disabled
An auto-reply to an incoming message when your agents are offline, but live chat is enabled. This will get sent as a text message.
An auto-reply to an incoming message when your live chat is disabled. This will get sent as a text message
An auto-closing message when the webchat has timed out, during and outside business hours
Learn more about how templates and auto-replies work here.
What is the Birdeye AI chatbot, Robin, and how does it enhance customer support?

Click to open
Robin, Birdeye's AI Chatbot, can be used to engage with website visitors 24/7. During off-business hours or when your agents are busy, Robin serves as an additional member on your team. She can automatically respond to commonly asked questions and route complex questions to an online agent. This enhances your customer support because no incoming message ever goes unattended.
How does Birdeye Webchat integrate with Birdeye Messaging?

Click to open
Messages on Birdeye Webchat funnel into the Birdeye Inbox, together with messages from Google, social, text, email, and other channels, so you can easily manage all your customer communications from one platform. Since we collect customer contact details before every webchat conversation, you can use the Inbox to text leads even after they leave your website, so you don't lose them.