Free Webinar
How to get Google reviews to grow
Google reviews contribute to the success of a business online. They impact more areas of your marketing than you may realize. That's why understanding how to get and use Google reviews is more important than ever.
Join the discussion with SEO experts as they provide their tips on how to get more Google reviews and use them to increase your revenue.
Be a part of this amazing discussion. Reserve your spot today!
In this webinar, you'll hear:
Various ways to use Google reviews to grow your business

The impact of reviews on SEO

How to overcome the challenge of getting new Google reviews

Tips on how to manage reviews, especially negative ones

And more!
Who you'll hear from
Carmen Garcia
Brand Manager
Strickland Brothers 10 Minute Oil Change
Joseph Randazzo
CEO
SEO Growth Partners
Interested? Here's a Sneak Peek
How to get Google reviews to grow your business
Google reviews are an integral part of every business's growth plan, and they have to be. Local business searches and near-me searches have exponentially increased since 2020. The local search result page is significant real estate that every business is looking to occupy. Google reviews can give you a huge advantage in achieving that goal.
Of course, regularly sourcing Google reviews from customers is a challenge for many local businesses. Many need help to scale the review generation process and usually stagnate at less than 50 reviews on their Google Business Profile.
Scale your review generation process and know the insider tips on how to get your Google reviews to grow your business with this webinar.
Our Birdeye Digital Marketing evangelist, Justin Meredith, sat down with Carmen Garcia, Brand Manager at Strickland Brothers' Minute Oil Change, and Joey Randazzo, leading SEO expert and the Founder & CEO at Portland SEO Growth Partners.
Watch the webinar to see what the SEO expert and the brand manager have to say about the process of Google reviews generation for business growth.
While waiting for the download, here is a small sneak peek from the webinar. Our panel members discuss the impact of Google reviews on your business before they talk about the review generation process.
Excerpt from Webinar
Justin Meredith, Birdeye: Let's talk about the power of Google reviews. Joey, can you tell us about the impact that Google reviews have on SEO?
Joey Randazzo, SEO Expert : Yes. We need to think about how Google operates as an entity. When someone goes to Google and does a query like "Massage near me" or "Best Oil Change Services in Portland, Oregon," Google looks at 200 plus different ranking factors to determine who ranks on Google for that query, particularly in the Maps area of Google. That area is called the Google Local Pack, where three businesses show up over time.
Google has relied more and more on Google reviews as a ranking factor. And this is particularly important because even more people are going to Google searching for very hyper-specific queries, as well as queries around, for example, "the best restaurant near me" and "the best oil change services in Seattle, Washington." And Google has to determine what "best" means and does that with reviews.
So, if you were to go to Google right now and do a search, whatever business service entity you're in, go to Google and type in "best," and then do it near me or your city. And you'll see that Google automatically changes the results to show those businesses with better reviews, higher quality reviews, and more reviews.
If people go to Google and just type in "oil change near me" or go to Google and type in "best oil change for me," they're going to see two different results, and that's how people search for things. And that's how Google gains trust to know which business it should rank over others. Google is heavily relying on Google reviews to do that.
So the more Google reviews and higher quality Google reviews, you have a better opportunity to rank in what's called that Google Local Pack, and I call it beachfront real estate on the Internet.
For localized queries where the Google Maps area, the Google Local 3-Pack shows up, over 50% of people engage with one of those three businesses. So if there are a thousand people per month searching for your services, 500 of them will engage with one of the three businesses at the top that show up in the maps area, and then they will go below the maps. It is an insane amount of people that are engaging with those top three businesses.
Justin Meredith, Birdeye: So, Carmen, from your point of view, why is it important for businesses to continuously collect Google reviews?
Carmen Garcia, Brand Manager: Outside of making Google happy from a business perspective, I think it's twofold. It allows us to get valuable insights into the customer experience and what they look for in their interactions with us as a business. And it also allows us to build trust and credibility as a business.
We deal with people's cars. So it is important that we collect those reviews, positive or negative, because it gives people something to look for when they're looking for a company they can trust to handle their car.
Justin Meredith, Birdeye: Definitely. So, what factors of reviews does Google find important?
Joey Randazzo, SEO Expert: So there are three really important things that Google is looking at.
1. The quality of the review
2. The star rating – (Are you at 4.6 stars or 2.3 stars?)
3. The number of reviews – (Do you have one thousand Google reviews, or do you have one Google review?)
Yet, there is also another factor, and that is the freshness of reviews matters a lot too. Google wants businesses to be active in terms of generating Google reviews and responding to them too.
For example, let's say I'm looking for a personal trainer in Austin, Texas. I go to Google and type in "personal trainer in Austin, Texas." If a personal trainer has 100 Google reviews but has not gotten a Google review in nine months, Google notices that Google said, "oh, they got 100 reviews, but they last got a review nine months ago."
Let's say there's a new competitor that came in that only has 30 Google reviews, but they've been averaging six reviews every month, six wonderful reviews every single month. Google will prioritize the active business with newer reviews over the one with older reviews.
Another thing to keep top of mind is that Google is looking at responding to reviews. They want to know that you're actively engaging with your audience.
Learn more about the leading SEO expert's techniques on Google review generation and great examples of seeing them in action from the Strickland Brothers 10 Minute Oil Change.
Watch the webinar now.
Birdeye: The Obvious Choice
Winning over 400 awards for 10 quarters in a row, Birdeye is the most-awarded and highest-rated customer experience software for businesses of all sizes.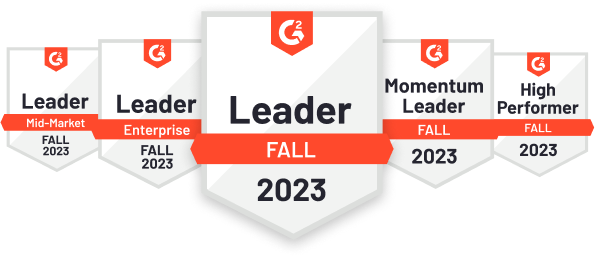 910 reviews

38 reviews