Free Guide
The complete guide to Google Seller Ratings
If you're working with a small team and a tight budget, creating standout Google ads can be tough – but there's a free tool that can make advertising easier.
Outshine your competitors and level up your ads at no extra cost with Google Seller Ratings. GSR can help you connect with more leads, build trust with customers, and increase your click-through rates by up to 17%.
Learn more about how Google Seller Ratings can boost your bottom line with our comprehensive guide to this game-changing platform.
In this guide, you'll learn:
Why Google Seller Ratings are effective

Step-by-step instructions on how to enable Seller Ratings

How to calculate the impact of your Google Seller Ratings

And more
Interested? Here's a Sneak Peek
Introduction
In today's digital world, standing out from the crowd can be challenging for businesses of every size. In an effort to stand out competitively, local businesses and national chains alike rely on Google Ads to outshine competitors online and generate more leads.
But even after writing compelling ad copy and connecting your ad to an optimized landing page, your Google Ads might not be performing as well as you expected. That's where Google Seller Ratings comes in.
Google Seller Ratings is a free tool that can help increase your click-through rate, attract more qualified leads, and ultimately drive higher revenue. Simply put, it's an effective way to improve your ad performance.
In this guide, we'll tell you everything you need to know about Google Seller Ratings. We'll explain what they are, how they work, and how you can measure their impact on your ad campaigns.
Chapter 1: Google Seller Ratings 101
Before you take a deeper look at how your business can use Google Seller Ratings, you need to understand the basics. This chapter will cover everything you need to know about what Seller Ratings are and why they're so effective.
What is Google Seller Ratings?
Google Seller Ratings is an ad extension that allows you to display your customer reviews on your Google Ads. Your ads will show the collective number of reviews your business has and an average rating out of five stars from those reviews.
You can use the extension to harness the power of your customer reviews and show them off within your ad. When searching for something on Google, several ads for businesses or products might appear at the top of the results page with yellow stars under the text. The goal is to help your ads stand out from the others in the hopes of making them more appealing to click.
There are three primary benefits that Seller Ratings offer you when you add them to your Google Ads:
Better customer conversion

Increased ad quality score

Lower cost-per-click (CPC)
We're going to take a deeper look at these benefits, but before we do, you'll need to understand how the Google Ad auction works.
Google Ad auctions
Whenever customers search for a product online, they'll see several Google Ads appear on the results page. Your goal is to make sure your ad is at the top of the list. In a Google Ad auction, you compete with other businesses to get your ad to appear on the results page. Here's how it works.
Bidding for clicks
First, you'll need to decide how much you're willing to pay for a customer to click on your Google Ad. This is called your Max cost-per-click (CPC). You might want to bid up to $10 per click, and two other businesses may bid $5 and $7. So, your bid is the highest, but that's just one factor in the Google Ad auction. You might be paying the most, but that doesn't mean your ad wins the top spot.
Quality score
Your quality score is how Google rates your ad to decide if it will win the ad auction. Google's search engine bases your quality score on factors like relevance, click-through rate, and landing page quality. The higher the quality score, the more likely you are to get your ad listed on search results.
Google Ad extensions
Google provides advertisers with several types of ad extensions that they can use to add additional information to the ad, such as phone numbers and links to specific pages of your website that they can enable at will. Google Seller Ratings is an example of an ad extension that allows businesses to showcase their customer reviews along with their ad. Google looks at what ad extensions you use and determines the positive impact they may have on your ads in the ad auction.
Three ways Google Seller Ratings improve your ads
Seller Ratings increase click-through rates
Reviews work because they're the opinions of your current and past customers that leads want to read. Potential customers want to know they'll be treated right when they patronize your business. Reviews are one way to provide this assurance.
When your star ratings appear within the Google Ad, that assurance can encourage leads to click on your ad and land on your website. The data backs this up. According to Google, using Google Seller Ratings leads to a 17% increase in click-through rate on paid ads. What's more, Seller Ratings appear on both mobile and desktop ads, which means they can help your paid search ads across the board.
Google Seller Ratings improve your ad quality score
Not only do Seller Ratings convert more customers, but they also help you improve your ad quality score. As mentioned above, Google takes several factors into consideration when determining your ad's quality score. So, when Google sees that your ad has Seller Ratings enabled, it can reasonably assume that it will have a higher click-through rate and raise the quality score of your ad.
How Google Seller Ratings lower your cost-per-click
A higher click-through rate and quality score from Seller Ratings will also lower your cost-per-click over time. As your quality score gets higher due to an increased click-through rate, it will signal to Google the relevance and quality of your ad to customers. When the quality score increases, you spend less on your ad campaigns, lowering your overall cost-per-click.
Download the guide today to read more.
Birdeye gets you real results that help you be found
Data is from over 100,000 Birdeye business customers
Birdeye: The Obvious Choice
Winning over 400 awards for 10 quarters in a row, Birdeye is the most-awarded and highest-rated customer experience software for businesses of all sizes.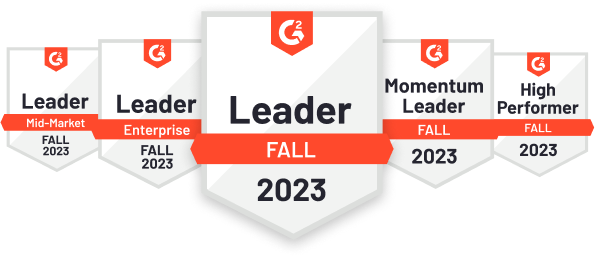 910 reviews

38 reviews