Company Snapshot
Established in 1974, Healthpointe is a multidisciplinary healthcare organization offering a full range of occupational medical services in practice locations throughout Southern California. The clinic has a strong record of excellence over the last four decades with private patients, workers compensation, and professional and non-professional athletes.
Background
Low online ratings from a small fraction of Healthpointe's patient base led to a poor online reputation that was steering patients away from Healthpointe. The organization used Birdeye to generate new patient reviews and transform their negative online reputation into a powerful driver of patient acquisition.
Healthpointe, a multidisciplinary healthcare organization, used Birdeye to generate new patient reviews and transform their negative online reputation into a powerful driver of patient acquisition.
Goals
Get new reviews from patients to boost ratings
Address issues promptly to enhance patient satisfaction
Establish positive online reputation to acquire more patients
Outcome
Within 12 months, Birdeye:
Generated over 15,000 new reviews
Improved overall rating from 3.3 to 4.8 stars
Ranked Healthpointe's review website #1 on Google
Delivered 90,000+ online visitors through SEO
Created a consistent presence on 50+ websites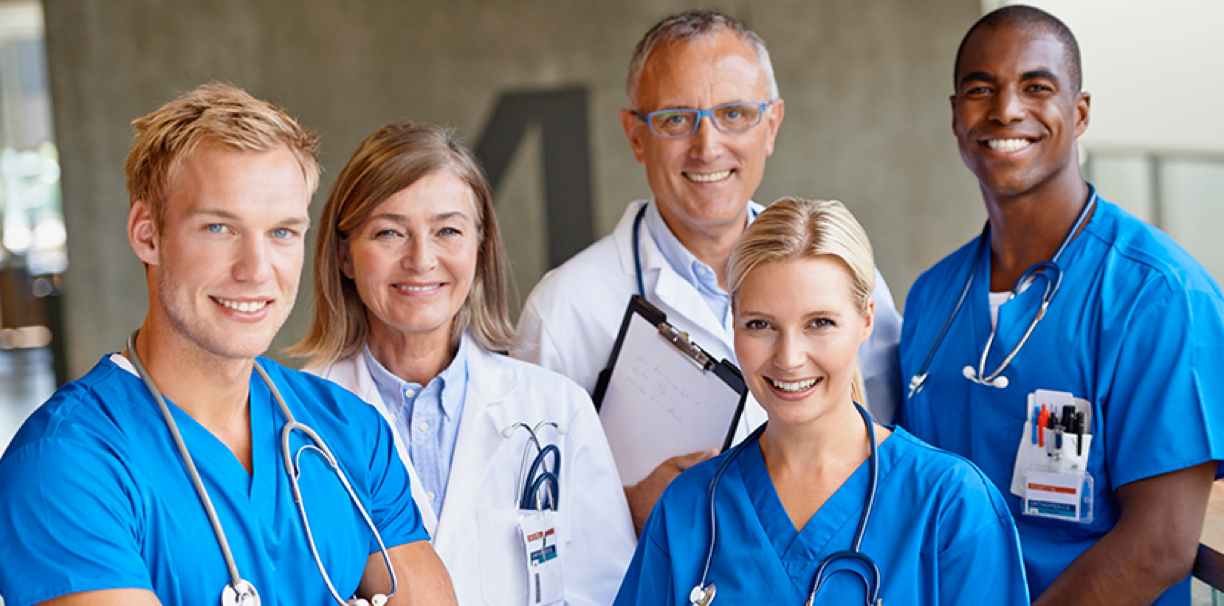 Boost review volume to amplify happy patient voices
Most of the Healthpointe's patients are loyal customers — a number of whom have been with Healthpointe for more than 10 years. But because many were over 50 years of age and not active on online critical sites like Google and Facebook, Healthpointe lacked the tools to keep a finger on the pulse of these patients to address ongoing feedback. Without this valuable feedback, the healthcare organization found they were at risk of "flying blind."
Additionally, a small percentage of unhappy patient reviews were ranking high on Google search, which did not reflect their general patient sentiment. Altogether, this impacted the overall brand perception negatively and hurt their ability to enroll new patients. As a result, Healthpointe's marketing spend on Google ads and social media was not converting to enrollments — prospective patients were influenced by the
negative reviews
.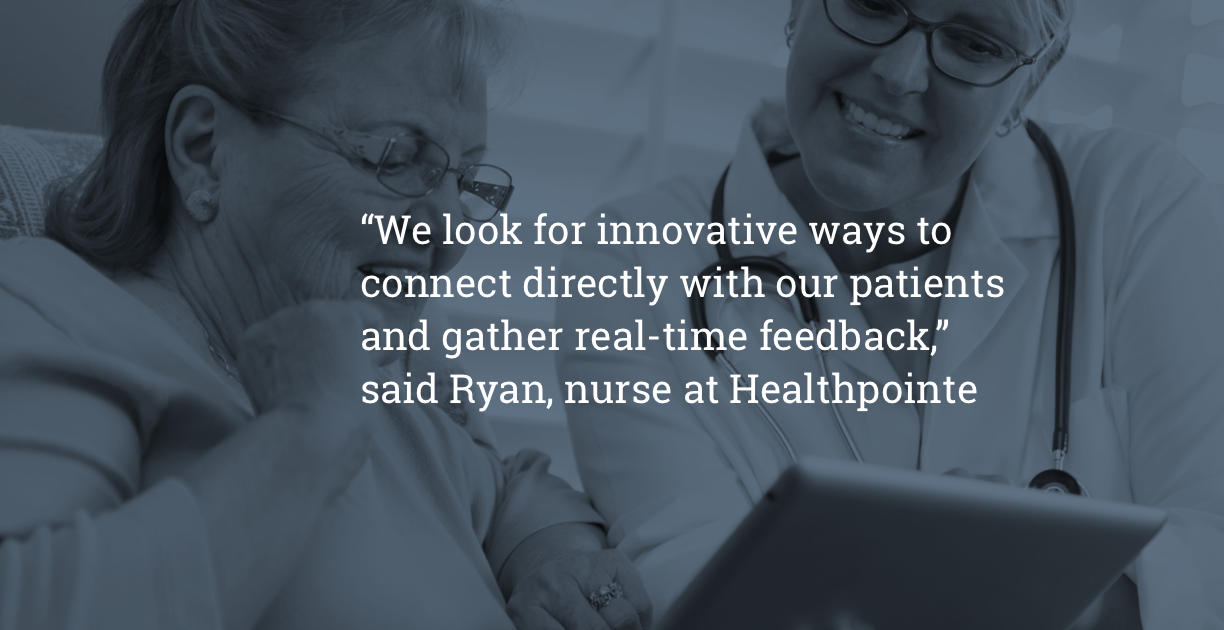 Automated on-site review collection from every patient
With low ratings from reviews appearing high on Google search results, the objective was two-fold: first, bring the patient feedback in-house; and second, score higher search rank for the positive reviews on the Healthpointe website than the older negative reviews.

With Birdeye technology, Healthpointe setup checkout kiosks onsite, using existing office computers. After every visit, patients left quick feedback on Birdeye platform and rated their experience on a 1 to 5 star scale, without having to provide too much personal information.

Birdeye also aggregated Healthpointe's reviews from all major review sites, and sent real-time alerts and reports to the management team to address issues in real-time.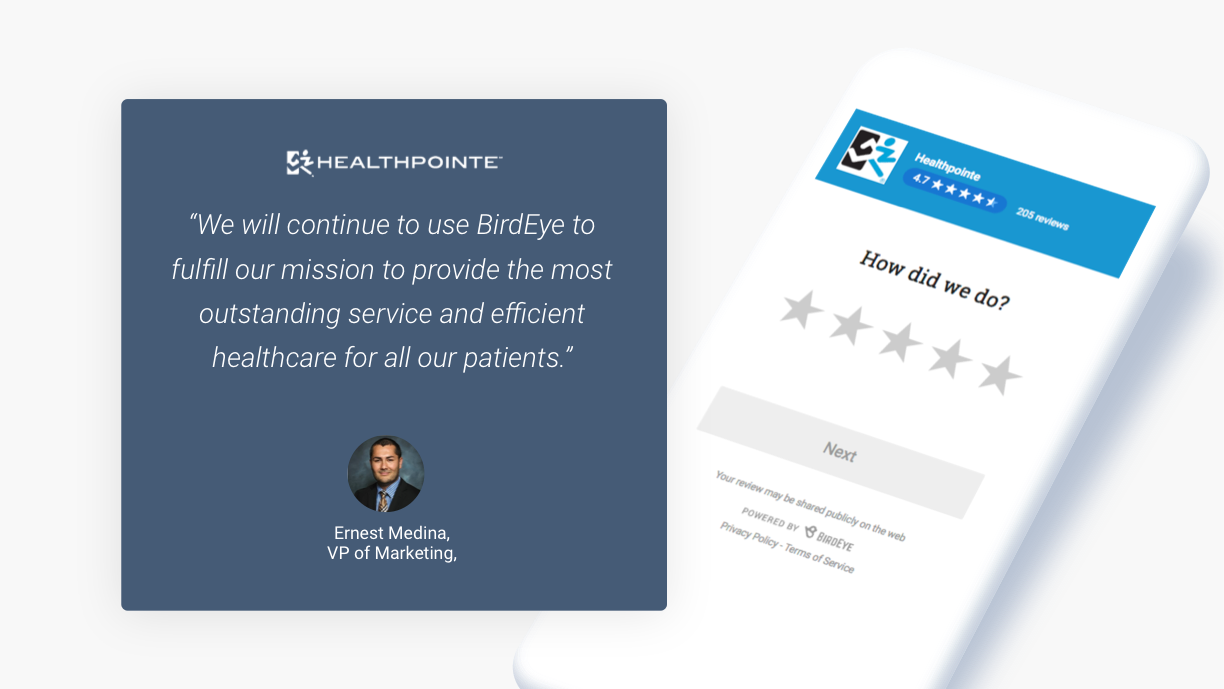 Higher ratings & improved SEO draw in more patients
The Birdeye platform automatically displayed over 15,000 new authentic reviews from kiosks on Healthpointe's website, while implementing
rich snippets
technology helping their website to rank higher in search results with a 4.8 star rating for relevant searches like "Healthpointe reviews."
Furthermore, Birdeye enhanced the healthcare enterprise's overall SEO dramatically by auto-distributing their reviews to 50+ influential consumer sites. With Birdeye Enterprise Analytics & Insights, Healthpointe uncovered negative customer feedback centered on long wait times, which it moved swiftly to address — resulting in improved patient satisfaction.
Birdeye: The Obvious Choice
Winning over 400 awards for 10 quarters in a row, Birdeye is the most-awarded and highest-rated customer experience software for businesses of all sizes.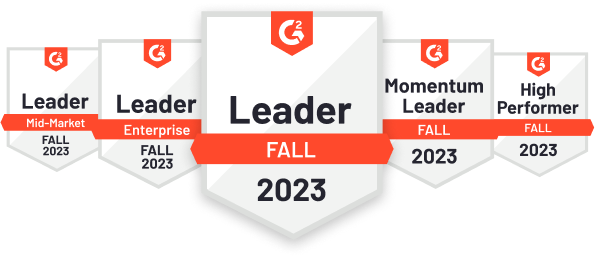 910 reviews

38 reviews